Dive into the captivating world of online casinos with our comprehensive guide to the best game providers. These trailblazers have transformed the gaming landscape, delivering top-notch entertainment right at your fingertips. From the bustling streets of Manila to the serene beaches of Boracay, these game providers have captured the hearts of Filipino players with their innovative designs, impressive graphics, and fair play policies. Whether you're a seasoned gamer or a novice, our guide will unveil the key players that are currently ruling the roost in the online casino industry. So, sit back and let us take you on a thrilling journey through the world of high-quality gaming.
Who are the Top Game Providers?
In the dynamic world of online gaming, the top game providers are the ones who create the most engaging, immersive, and entertaining experiences for players. Let's dive into the world of the top 10 game providers who are currently leading the industry.
Microgaming: Known as the pioneer of the online casino industry, Microgaming has been delivering high-quality games since 1994.
NetEnt: This Swedish company is renowned for its innovative slot games that come with top-notch graphics and creative themes.
Playtech: Playtech is famous for its extensive range of games, including slots, poker, and live dealer games.
Evolution Gaming: If you're a fan of live casino games, chances are you've come across Evolution Gaming. They are the undisputed leader in the live gaming sector.
IGT: With a rich history dating back to the 1950s, IGT has a vast portfolio of slot games loved by players worldwide.
Novomatic: This Austrian provider is known for its classic slot games that are popular in both land-based and online casinos.
Scientific Games: Scientific Games offers a diverse range of games, from slots to lottery and digital games.
JILI Games: An emerging provider, JILI Games is quickly gaining recognition for its vibrant and engaging game offerings.
Aristocrat: Aristocrat is a well-established provider known for its engaging slot games with unique features.
Pragmatic Play: Pragmatic Play offers a wide variety of games, from slots to live casino games, all known for their high-quality graphics and gameplay.
What Makes a Game Provider Stand Out?
With so many game providers in the market, what distinguishes the best game providers from the rest? Let's delve into the key features that set them apart.
| Key Features | Description |
| --- | --- |
| Innovation | The best game providers are always pushing the boundaries of what's possible in online gaming, creating unique and exciting experiences for players. |
| Quality | From graphics to sound effects, the quality of a game significantly impacts the player's experience. The top providers ensure their games are of the highest quality. |
| Variety | Players appreciate a wide range of games to choose from. The best providers offer an extensive portfolio of games, from slots to live dealer games. |
| Reliability | Games need to run smoothly without glitches. The top game providers ensure their games are reliable and run seamlessly on various platforms. |
| Security | Player's security is paramount. The best providers use advanced security measures to ensure their games are safe and fair. |
In conclusion, the best game providers are those who constantly innovate, deliver high-quality games, offer a wide variety, ensure reliability, and prioritize player's security.
How Do Game Providers Impact Your Gaming Experience?
When it comes to online gaming, the role of game providers cannot be overstated. These companies are the backbone of the industry, shaping your gaming experience in myriad ways. But how exactly do they do this? Let's delve deeper.
Firstly, game providers are responsible for the creation and development of the games you love. They craft the thrilling storylines, the vibrant graphics, and the immersive sound effects that transport you into different worlds. Whether you're exploring ancient Egypt in a slot game or sitting at a virtual poker table, it's the game providers who make this possible.
Secondly, the best game providers ensure fairness and security in their games. They use sophisticated algorithms to guarantee that each spin of the reel or shuffle of cards is completely random. This means you can trust that your gaming experience is not only fun, but also fair.
Lastly, game providers often innovate to enhance your gameplay. They introduce new features, like bonus rounds and progressive jackpots, that add an extra layer of excitement to the games. They also optimize their games for mobile play, allowing you to enjoy your favorite games wherever you are.
| Game Provider | Key Contribution |
| --- | --- |
| Provider A | Innovative gameplay features |
| Provider B | High-quality graphics and sound |
| Provider C | Mobile optimization |
Best Online Casino Game Provider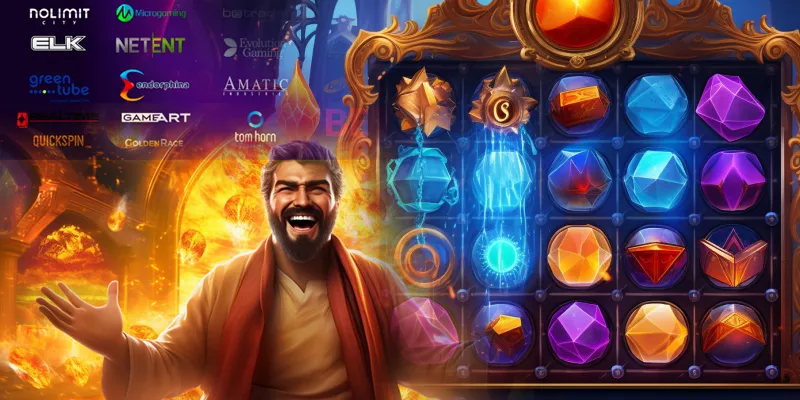 Our survey has collected responses from 1,324 users to find out the best online casino game providers. Here are the results:
| Provider | Percentage |
| --- | --- |
| Microgaming | 12.3% |
| NetEnt | 15.4% |
| Playtech | 14.8% |
| Evolution Gaming | 11.9% |
| IGT | 9.7% |
| Novomatic | 8.6% |
| Scientific Games | 10.2% |
| JILI Games | 7.4% |
| Aristocrat | 5.1% |
| Pragmatic Play | 4.6% |
Join the Survey:
Why Choose Games from Top Providers?
When it comes to online gaming, the quality of your experience heavily depends on the game providers. Top game providers are renowned for their high-quality graphics, engaging gameplay, and potential for winning. These elements are the key to an immersive and enjoyable online casino experience.
High-quality graphics are not just about beautiful visuals. They play a crucial role in creating a realistic and immersive gaming environment. The top game providers invest heavily in cutting-edge technology to deliver graphics that are sharp, smooth, and lifelike.
Engaging gameplay is another important factor. The best game providers are innovative and creative, constantly introducing new features and game mechanics to keep players engaged. They are also known for their wide variety of games, catering to all tastes and preferences.
The potential for winning is what attracts many people to online casinos. Top game providers are known for their fair play and high payout rates. They use sophisticated algorithms to ensure that the outcome of every game is random and fair.
| Benefits | Top Game Providers |
| --- | --- |
| High-quality graphics | Provide a realistic and immersive gaming environment |
| Engaging gameplay | Offer innovative features and a wide variety of games |
| Potential for winning | Known for fair play and high payout rates |
The Future of Game Providers – What to Expect?
The online casino industry is ever-evolving, and game providers must adapt to keep up with the latest trends. The future of game providers looks promising, with several exciting developments on the horizon.
One of the major trends is the rise of mobile gaming. As more people use their smartphones and tablets to play games, providers are focusing on creating mobile-friendly games that can be played anywhere, anytime. This means games with responsive designs, easy-to-use interfaces, and optimized performance.
Virtual reality (VR) and augmented reality (AR) are also set to revolutionize the online casino industry. These technologies can create highly immersive gaming experiences, making players feel like they are in a real casino. Top game providers are already experimenting with VR and AR, and we can expect to see more VR and AR games in the future.
Another trend is the integration of social features in online casino games. This allows players to interact with each other, adding a social element to the gaming experience. We can expect to see more social features in future games, such as chat rooms, leaderboards, and multiplayer modes.
| Future Trends | What to Expect from Game Providers |
| --- | --- |
| Mobile Gaming | Mobile-friendly games with responsive designs and optimized performance |
| VR and AR | Immersive gaming experiences that mimic a real casino |
| Social Features | Interactive games with chat rooms, leaderboards, and multiplayer modes |