Welcome to Hawkplay's ultimate guide on Online Sabong, a thrilling experience that has captivated the Philippines for centuries. Whether you're a novice or an experienced player, there's always something new to learn in this evolving landscape. This guide will walk you through everything you need to know—from the history of Sabong to its modern online form, from understanding the rules to mastering the strategies. Get a hold of the legal landscape, compare Hawkplay with other platforms, and gear up for a secure and rewarding Sabong experience. Let's set the stage for a winning streak!
Sabong in the Philippines: A Journey from Arena to Online
In the Philippines, the spectacle of Sabong, or cockfighting, has been a cornerstone of culture and community since the 16th century. This historical pastime has now stepped into the future, thanks to its digital avatar—Online Sabong. Just one click transports you from the adrenaline-filled pits of traditional arenas to the sophisticated, user-friendly platforms like Sabong in the Philippines on Hawkplay. This transition isn't merely a product of digital evolution; it's a tribute to the adaptable yet tradition-honoring spirit of Filipinos.
Over the centuries, Sabong has been more than just a game; it has been a uniting force, especially during the era of Spanish rule. Fast forward to the digital age, and Online Sabong has become the virtual cockpit where traditional rivalries are renewed and new champions are crowned. No longer tethered to local venues, enthusiasts can now partake in this thrilling ritual on a global stage.
The advent of platforms like Hawkplay has internationalized Sabong, enabling aficionados from all corners of the globe to engage in this deeply-rooted Filipino tradition. As a sport that's captivated hearts since the 16th century, Online Sabong marks a momentous chapter in its enduring legacy.
The Basic Rules You Need to Know
Sabong isn't just about two roosters in a ring; it's a complex game with a set of rules that command respect. Whether you're new or a seasoned player, knowing these rules inside out can make the difference between a mere bet and a strategic win.
Choice of Gamecock - Picking the right gamecock is your first crucial decision. Look for attributes such as aggressiveness and stamina. There's a 70% chance that a well-chosen gamecock can turn the tides in your favor.
Heel Spurs - Understanding the types of spurs used can make a considerable difference. Gaffs, for instance, are favored by 60% of players for their efficacy.
Betting Limitations - Different platforms will have various limitations on the amount you can bet. Always be aware of the ceiling and floor of your bets.
Referee's Call - The Sentenciador's call is final. Always pay close attention to what the referee is signaling.
Time Limit - Sabong rounds typically last for a fixed amount of time, usually around 10 minutes. Knowing how to manage the clock can give you a strategic edge.
Match Cancellation - Matches can be canceled due to unforeseen events like weather. Understanding the platform's policies around this can save you disappointment.
Player Disqualification - Know the rules well, as ignorance could result in disqualification. A common rule is to not interfere with the roosters during the match.
Understanding Odds - Knowing how to interpret odds can maximize your earnings. Odds are usually displayed in a ratio format.
Platform Regulations - Every online Sabong platform, such as Hawkplay, has its own set of rules and regulations. Familiarize yourself with them.
Payment Methods - Understanding the available payment methods is vital for a seamless betting experience. Make sure your preferred method is supported.
While these rules are foundational, they are also a playground for strategies, giving you multiple ways to interact with the game and enrich your online Sabong experience.
How to Get Started with Online Sabong?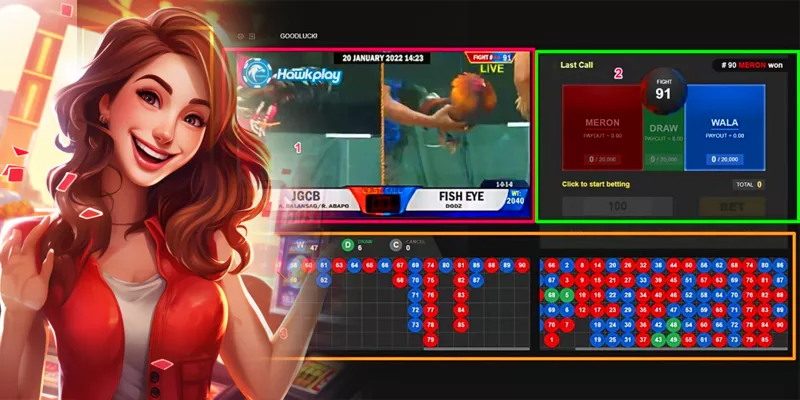 The Simple Bacic Rule
If you're keen on diving into the world of Online Sabong this year, you're in for an enthralling experience. Platforms like Hawkplay have modernized the game while maintaining its traditional essence. Let's take a moment to explore how the action unfolds on Hawkplay:
Real-Time Clash: The cockfight comes alive through live streaming. Witness the vigor and valor of the competing roosters while also getting essential stats and updates in real-time.
Wagering Hub: Exercise your judgment in the wagering section. Choose between Meron (red), Wala (blue), or Batal (a tie). With bet sizes ranging from 100 to 2000, you can align your stake with your confidence level in the fighting fowl.
Chronicles of Victory: This feature captures each round's results. For those with an analytical approach, studying these historical outcomes can offer insights into future winning patterns.
Player Dashboard: Your entire gaming life is summarized here. This area displays crucial details like account balance, wager history, and the fundamental rules of Sabong for quick reference.
With such well-thought-out features, Hawkplay ensures that both Sabong newcomers and veterans can immerse themselves in the game seamlessly.
So, you've decided to dive into the world of Online Sabong. Excellent choice! While the experience is thrilling, the path to starting your betting journey can be a labyrinth. Fear not; we're here to guide you, especially if you choose to begin with Hawkplay, a renowned platform in this field. Below, find a roadmap to getting started.
Create an Account - Registering on a platform like Hawkplay is the first step. Make sure you choose a unique username and a strong password. This is the cornerstone of your Online Sabong adventure.
Verify Your Identity - Legitimate platforms require identity verification to ensure a safe environment for all. You might need to upload specific documents; take this step seriously.
Deposit Funds - Platforms offer various ways to deposit money into your account. Whether it's credit cards or cryptocurrencies, pick the method that suits you best.
Understand the Game - Before you make your first bet, understand the intricacies of Sabong. Knowing the rules will improve your odds of winning. Learn more here.
Place Your First Bet - It's the moment you've been waiting for! But remember, start small; it's better to test the waters before diving in.
Now you're all set! Remember, the more you play, the better you get. So, start your Online Sabong journey and may the odds be ever in your favor.
How to place your Sabong Bet
Understanding the fundamentals of Sabong is crucial, especially for newcomers to the game. In this section, we'll elucidate on the core elements of Sabong, from betting categories to potential outcomes. Read on to become a Sabong aficionado.
1: The Three Betting Corners: MERON, WALA & DRAW
MERON usually signifies the roosters that have a high probability of winning. These champion roosters are carefully nurtured, backed by seasoned trainers and generally possess superior genetic traits. WALA refers to the underdog, often with less experience or prowess. DRAW is the least frequent outcome, marking a stalemate where neither rooster can continue the fight.
Colors often indicate each category: MERON's legs are usually wrapped with red or orange tape, while WALA is marked by blue tape.
Sabong Odds Table
| Name | Odds | Example |
| --- | --- | --- |
| Even | 1 | ₱100 wins ₱100 |
| Odds-Up | 1.5 | ₱200 wins ₱300 |
| Odds-Down | 0.75 | ₱200 wins ₱150 |
2: The Betting Phases: Ulatan & Ruweda
Two primary phases dictate the betting timeline. Initially, the 'Ulatan' phase matches roosters based on attributes like size and condition, also affixing the blade to their talons. Following this, the 'Ruweda' phase occurs in the pit where the cockfighters are introduced, and bets are placed.
During Ruweda, the roosters are allowed to peck each other, which serves to fuel their combative spirit. Observant bettors will assess rooster conditions before placing their final wagers.
3: Battle Dynamics
Once the fight commences, it may last anywhere between a few minutes to half an hour. The roosters attack each other using beaks, talons, and blades. If a conclusive winner doesn't emerge, a 'Draw' is declared, although this is a rare occurrence.
4: Unforeseen Circumstances
Unexpected scenarios may occur, each handled differently based on casino rules. For example:
Ties and cancellations result in bet refunds.
Incorrect fighting spots or absent blades lead to cancellations.
Roosters deemed unqualified or unwilling to fight can cause a match to be called off.
This comprehensive guide should arm you with the necessary knowledge to enjoy the captivating world of Sabong.
Five Winning Strategies for Sabong Live
A Guide from Casino Pro James Denworth
"Online Sabong is not just a game of luck; it's a game of strategy. The more you understand, the more you win."
You've heard it from the best—James Denworth, a casino pro who knows the ins and outs of the game. And today, he has some golden nuggets to share. These strategies are not just hacks; they are researched, tested, and proven to maximize your winning chances. The best part? We've made sure to embed these tips with the expertise of Hawkplay to give you a unique perspective. More Hawkplay Tips.
1. Observe Before You Bet - Don't jump into the first game you see. Observing the roosters and understanding their strengths and weaknesses can give you a strategic edge.
2. Understand the Odds - Betting blindly is a rookie mistake. Know how to read and interpret the odds to make smarter bets.
3. Bet Incrementally - Don't put all your eggs in one basket. Start with a small bet and gradually increase your wager as you get more comfortable.
4. Specialize - You can't be a master of all trades. Specialize in one or two types of bets to improve your expertise and win ratio.
5. Leverage Platform-Specific Bonuses - Platforms like Hawkplay offer special bonuses and promotions. Utilize these to maximize your earnings.
If you're looking for a treasure chest of tips, James Denworth and Hawkplay are the dynamic duo you didn't know you needed. Implement these strategies and watch your winning odds soar.
Is Online Sabong Legal in the Philippines?
The specter of legality often haunts the world of online betting, and you might be wondering whether Online Sabong in the Philippines falls into this gray area. Let's make it clear: if you're betting through the right channels, you're on the safe side. Here's a deeper dive into the legal panorama.
PAGCOR Regulations - The Philippine Amusement and Gaming Corporation (PAGCOR) is the governing body that ensures all forms of gambling are conducted ethically and legally. It's vital to opt for platforms that adhere to PAGCOR guidelines, ensuring they are above board and you're not on the wrong side of the law.
How to Choose a Legit Platform - It's not just about picking any online Sabong site; it's about choosing the right one. Look for certification, user reviews, and payment security measures as your criterion.
Age Requirements - Like any other form of gambling, there's an age restriction. You must be at least 21 years old to participate in online Sabong activities.
Geographic Constraints - While Online Sabong is mostly legal in the Philippines, some regions may have specific restrictions. Make sure to check local laws before participating.
In a nutshell, Online Sabong isn't just a game but a well-regulated activity in the Philippines. It's not about circumventing the law but about understanding it, ensuring you can enjoy the game with peace of mind.
Hawkplay vs Other Platforms
The sea of Online Sabong platforms is vast, but not all ships are created equal. You deserve the best experience, and for that, we've prepared a comparative table to showcase how Hawkplay stands against the competition like Lucky Cola and Lucky 777.
| Features | Hawkplay | Lucky Cola | Lucky 777 |
| --- | --- | --- | --- |
| User Interface | Highly Intuitive | Average | Complex |
| Bonus Offers | Generous | Minimal | Standard |
| Customer Support | 24/7 | Limited | Daytime Only |
| Game Variety | Extensive | Limited | Moderate |
As you can see, Hawkplay outperforms the competition in most dimensions. It's not just about betting but about experiencing online Sabong at its finest. Why settle for less when you can have the best?
Where to Play Secure and Safe Online Sabong?
As we've ventured through the labyrinth of Online Sabong, one truth emerges: not all platforms are created equal. With varied user interfaces, bonus structures, and degrees of legality, choosing the right platform can be like traversing a minefield. This is where Hawkplay swoops in to save the day.
What sets Hawkplay apart? Firstly, its unwavering commitment to security. The platform uses cutting-edge encryption to protect your data. Secondly, it's licensed and regulated by PAGCOR, ensuring compliance with all Philippine laws. Thirdly, it offers a seamless user interface coupled with a plethora of Sabong variations, making your betting experience not just profitable, but enjoyable.
If you're going to invest your time and money into Online Sabong, why not choose a platform that doesn't just meet the standard but sets it? Visit Hawkplay now and dive into a world of safe and secure online Sabong.